The E.S.P.R.I.T. Industries Campus offers meetings with companies throughout the year in order to connect students and executives and thus promote professional integration. The corporate relations department helps to animate this network by creating dedicated events.
The corporate relations department help students in their internship search, alternating for the professionalization contract and the apprenticeship and employment contract…
Recruitment day: From the first day of recruitment, the Campus offers:
Employability workshops: make a CV or cover letter in French, develop your network, understand an individual interview, set up an internship research methodology
simulations of interviews with recruitment firms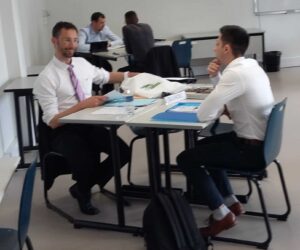 The business relations department organises a job dating in order to accompany students in their search for alternation: professionalisation contract or apprenticeship contract…  The Campus offers business conferences: a professional, often a graduate of the school, presents his career and his trade to students and individual interviews with the recruiter. Next job dating for our admissions on 17/05/2018
Contact: admissions@campus-redon-industries.com
Access to alternative offers
Each year, the Business Relations Service makes available more than 150 alternating offers offered by partner companies to its student network.
GENIAL trophies
The student projects of the GENIAL Trophies complete this meeting scheme. The Campus organizes an annual symposium involving its partners. Conducted within the pedagogical framework of the training, this study is conducted by our students of the ESLI Bac-4/Bac-5 course and supervised by teacher-researchers and will be presented on June 28, 2018 at the 13th edition.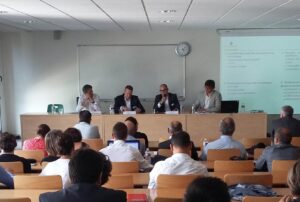 Business visits
During the year, the Business Relations Department organizes, at the request of the Program Manager, business visits for students with its partners.
The Alumni Network
This network is available to you 3 months before the end of your course.
You will find the network tools that you can benefit from as a graduate of the E.S.P.R.I.T. Industries Campus – ESLI:
News: Discover the life of your school's graduate network
Directory: Access e.S.P.R.I.T. Industries -ESLI Alumni Contacts
Agenda: Participate in the events of the network dedicated to graduates (meetings, business discoveries, conferences…)
Jobs: Check them out and create email alerts
Career: Prepare before the end of your course your entry into the labour market (sponsorship, old contact…)
And tomorrow, as a graduate, the ESPRIT Industries Campus – ESLI Alumni will be at your side to accompany:
Your professional retraining and career development: preferential rates on continuing education programs, coaching
The creation and development of your business: professional clubs, business visits, program animation, …
Recruitment: personalized recruitment sessions for your alternating offers and job offers
Contact: alumni@campus-redon-industries.com