Introducing our electronic platform
The electronic platform aims to train high-level operators and technicians to meet the demand of companies in high-tech occupations.
Our technical platform allows us to carry out production activities in electronics:
setting the specifications
assembly
Soldering
testing and control phase
repairs if needed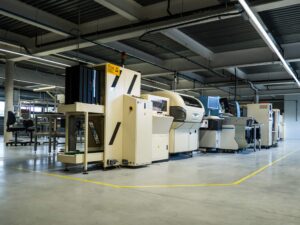 As such, the tray is equipped with a complete CMS line consisting of a stripper, a screen-printer, two automatic placement machines, and a 9-zone refusion oven.
A double wave, manual implementation and control stations, AOI and in-situ testers allow to complete the production tool.
Operators also have tools for repairing maps, heating plates, brazing/disbrasing stations, binocular magnifying glasses.
The platform's equipment allows small series of electronic cards to be produced or tested for very advanced uses.
The space of the platform is organized in islands, as in an electronics production plant. Shelves dedicated to the storage of electronic components have been set up, as well as a stuve as in a real professional warehouse.
The building is equipped with a specific antistatic floor protecting from static electricity which is essential for electronic production. Learners are also required to dress in the regulatory outfit as are company employees (blouse, heels, gloves).
Develop your employees' skills
Repair and wired supplement
Manual brewing, level 1
Manual brewing, level 2
Mechanical assembly
Repairing components
Visual control on map
Wired wiring (5 days)
Map repair (2.5 days)
Analog Electronics, Level 1
Analog Electronics, Level 2
Electronic radio frequency, level 1
Industrialization of e-cards
Electronic card manufacturing processes
Searching for breakdowns and troubleshooting
Use of measuring devices
Our courses mix theoretical courses and practical applications (TP, manipulationof tools, measuring devices and maps), this allows:
To provide an educational framework that provides an inciting and mobilizing environment for your employees;
To follow your employees individually;
Quality education.
The list of courses is not exhaustive, we can also discuss with you your needs and offer you modules à la carte. To contact us: formationcontinue@campus-redon-industries.com